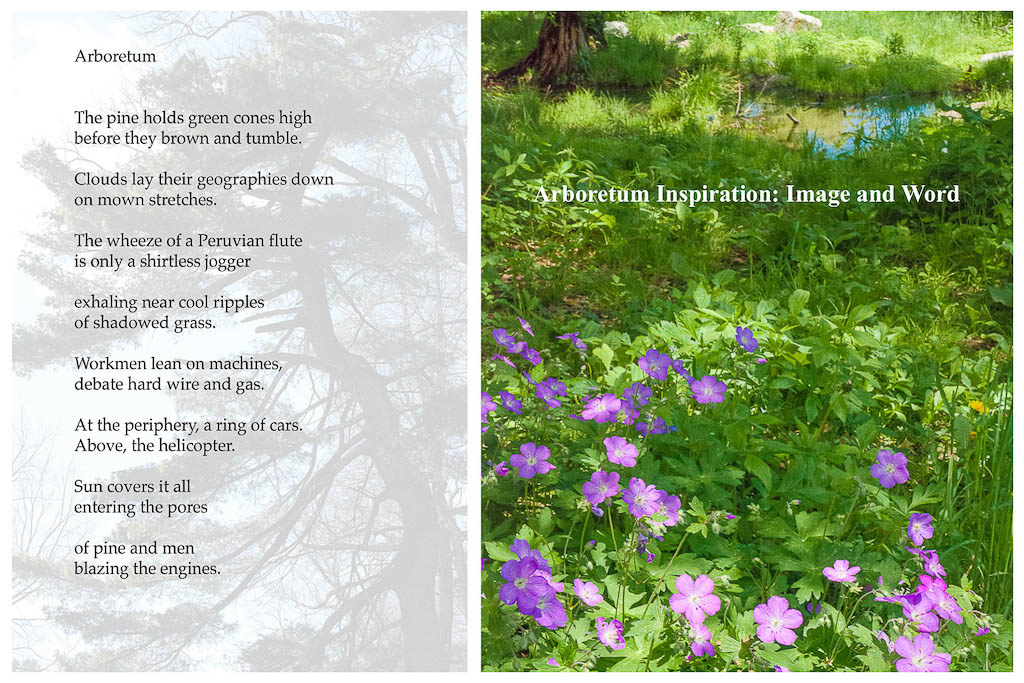 Arboretum Inspiration: Image and Word
"…Remember, whatever comes next, we have walked here."– Excerpt "On Peter's Hill" Guran, River Tracks, 2007
"Together, poet Holly Guran and photographer Philip McAlary have witnessed the continuous inspiration of the Arboretum. Their nature- focused images and words complement each other, melding sight, sound, and mind. Frequent walks in the landscape were the influence and force behind this collaboration uniting McAlary's vibrant images with Guran's thoughtful words.
Holly Guran, author of the chapbooks River Tracks (Poets Corner Press), Mothers' Trails (Noctiluca Press), and the forthcoming River Full of Bones (Iris Press), earned a Massachusetts Cultural Council finalist award in 2012.
Philip L. McAlary studied at Otis Art Institute in Los Angeles. His photos have appeared on websites including Massachusetts Cultural Council, Wagner Society of Boston, and Carpenter Poets of Eastern Massachusetts."
As quoted from the Arnold Arboretum website Events page for our collaborative exhibition in the Hunnewell Building in Jamaica Plain (June 5-September 13, 2015).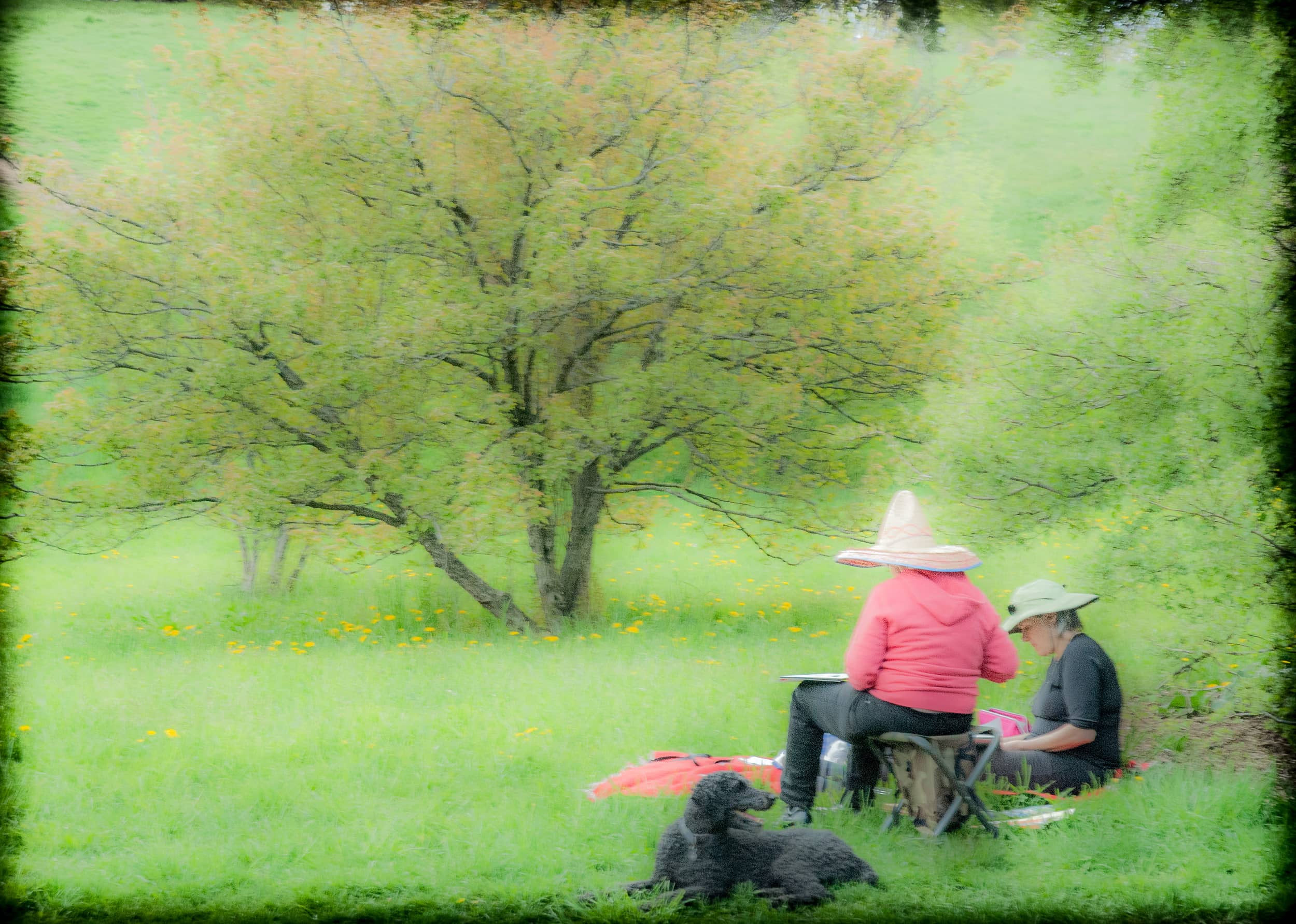 Artists at Work
Two artists are sketching the Spring scenery from the base of Peters Hill in the Arnold Arboretum of Harvard University.Their dog is resting while enjoying the view.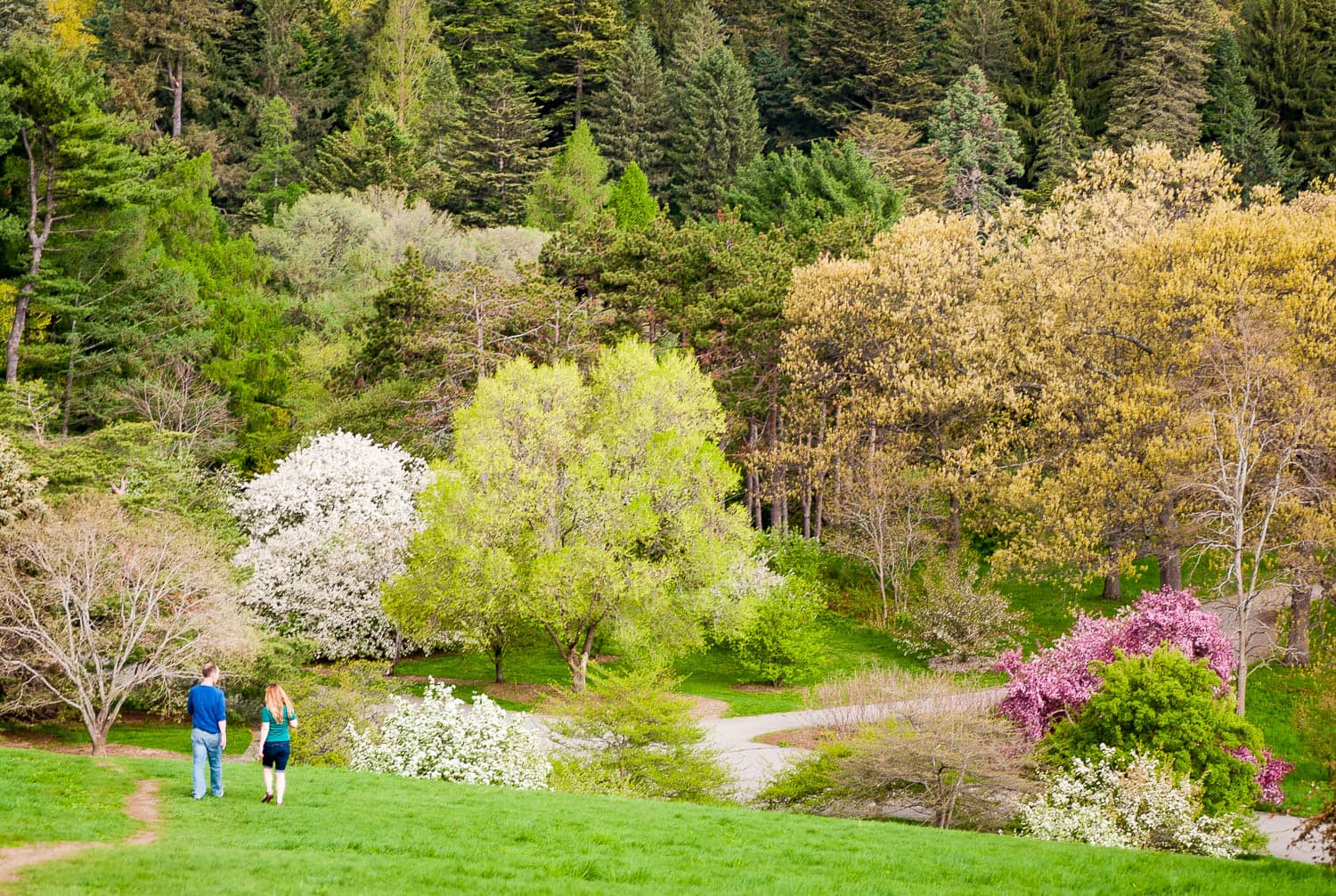 Spring Fever
View from the top of Peters Hill in Mid-Spring at the Arnold Arboretum of Harvard University located in Roslindale and Jamaica Plain, Massachusetts.
Barry
My good friend and neighbor Barry standing within the branches of a sumac tree in the autumn. This photo was taken in the beautiful Arnold Arboretum of Harvard University in Roslindale (Boston), MA.
Sun
A poem by Holly Guran. The background image is of Skunk Cabbage flowering in the Spring.
Skunk Cabbage
A skunk cabbage flowering in early spring before the green leaves have sprouted.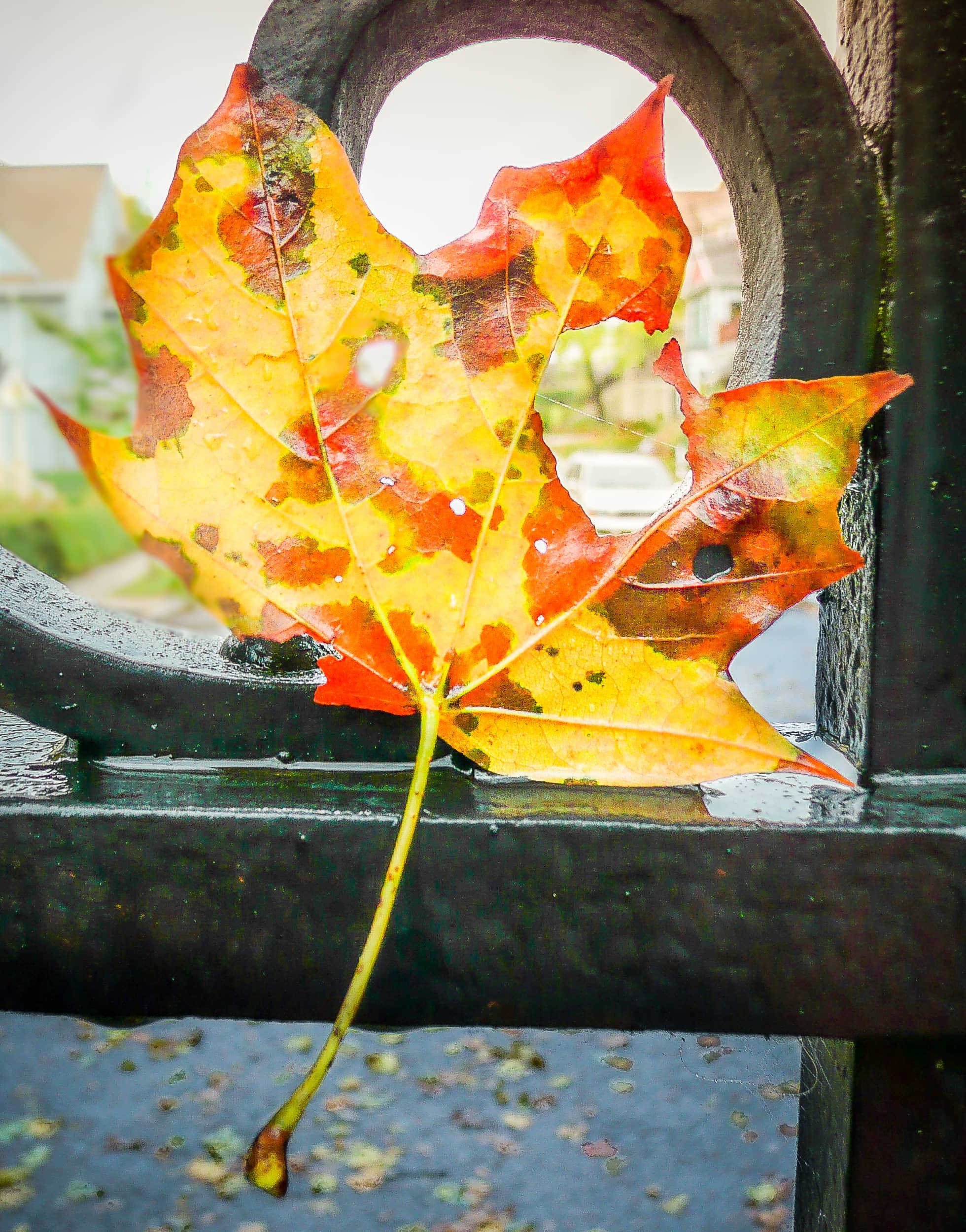 Caught
An autumn maple leaf driven by the breeze and caught by the great iron gate at the entrance to the Arnold Arboretum on Mendum Street, Roslindale, MA.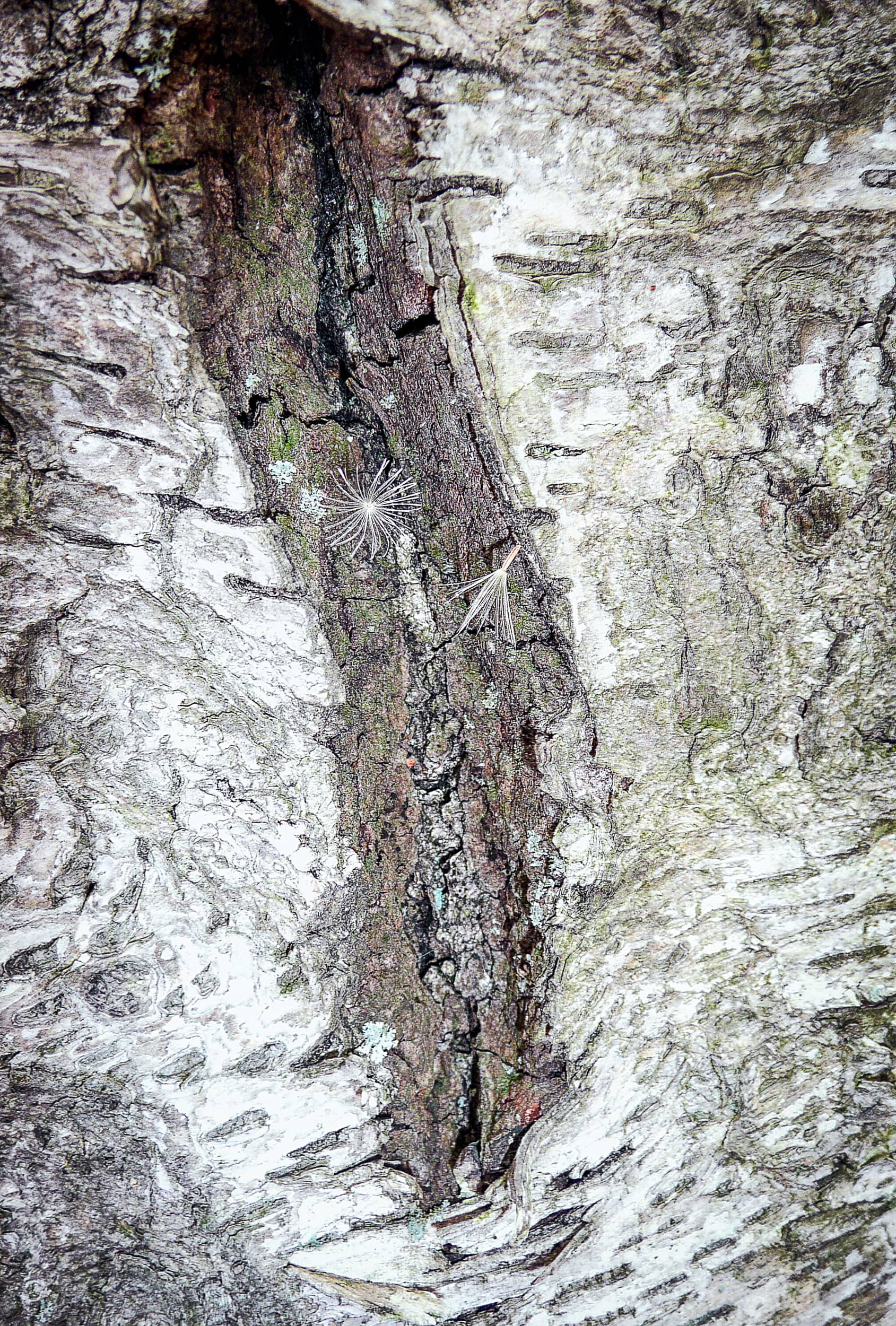 Birch Bark and Seeds
Looking closely I discovered the tiny seeds trapped in the roughness of the birch bark scar. Since this photograph was taken the birch tree has been cut down and removed. The impermanence of life.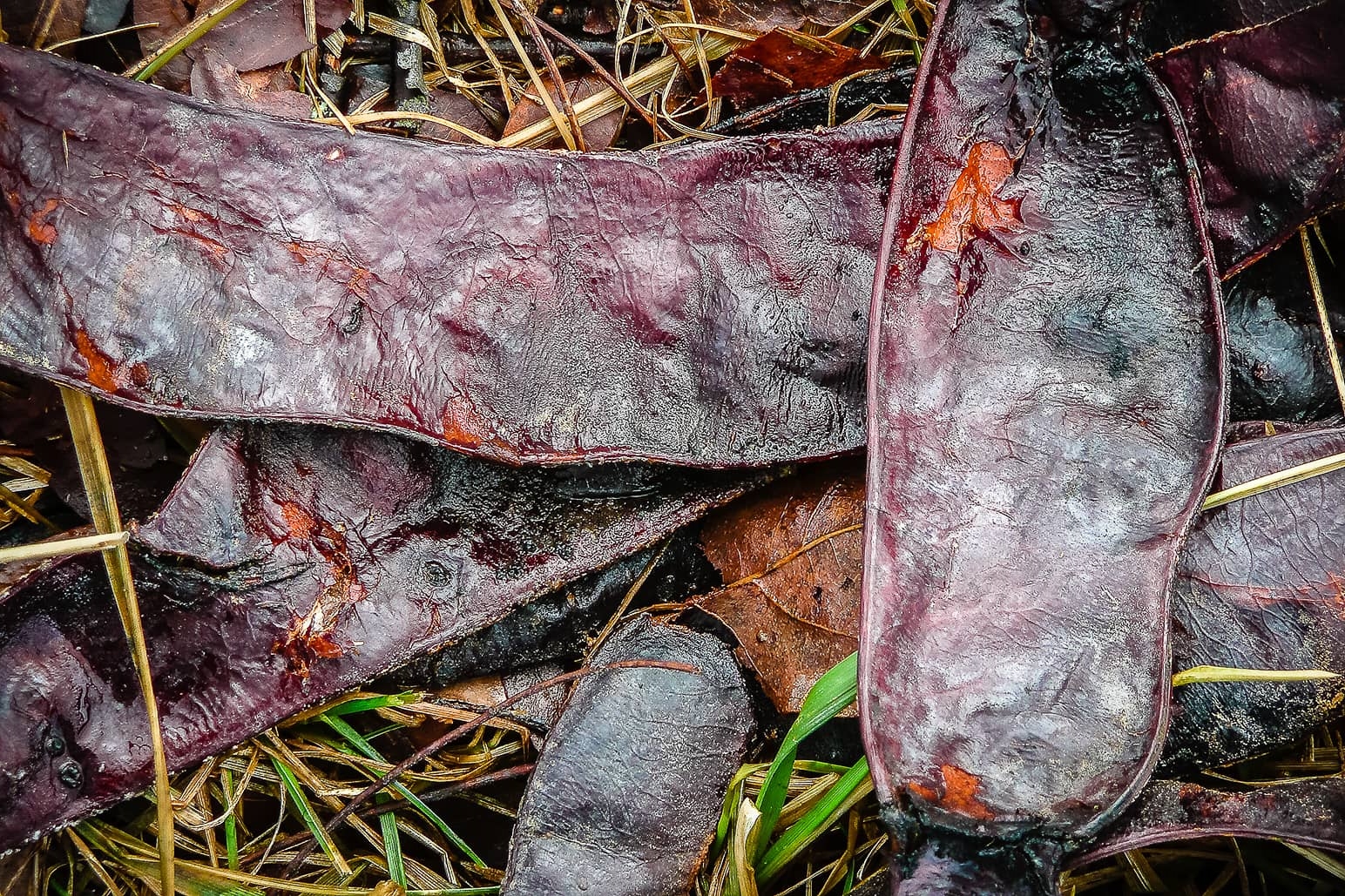 Locust Seedpods
Photograph taken on a November day while walking under the collection of Locust trees on the side of Peters Hill in the Arnold Arboretum of Harvard University, Boston, MA. I am drawn to the color, shape and form of these seed pods, some of which are a foot long.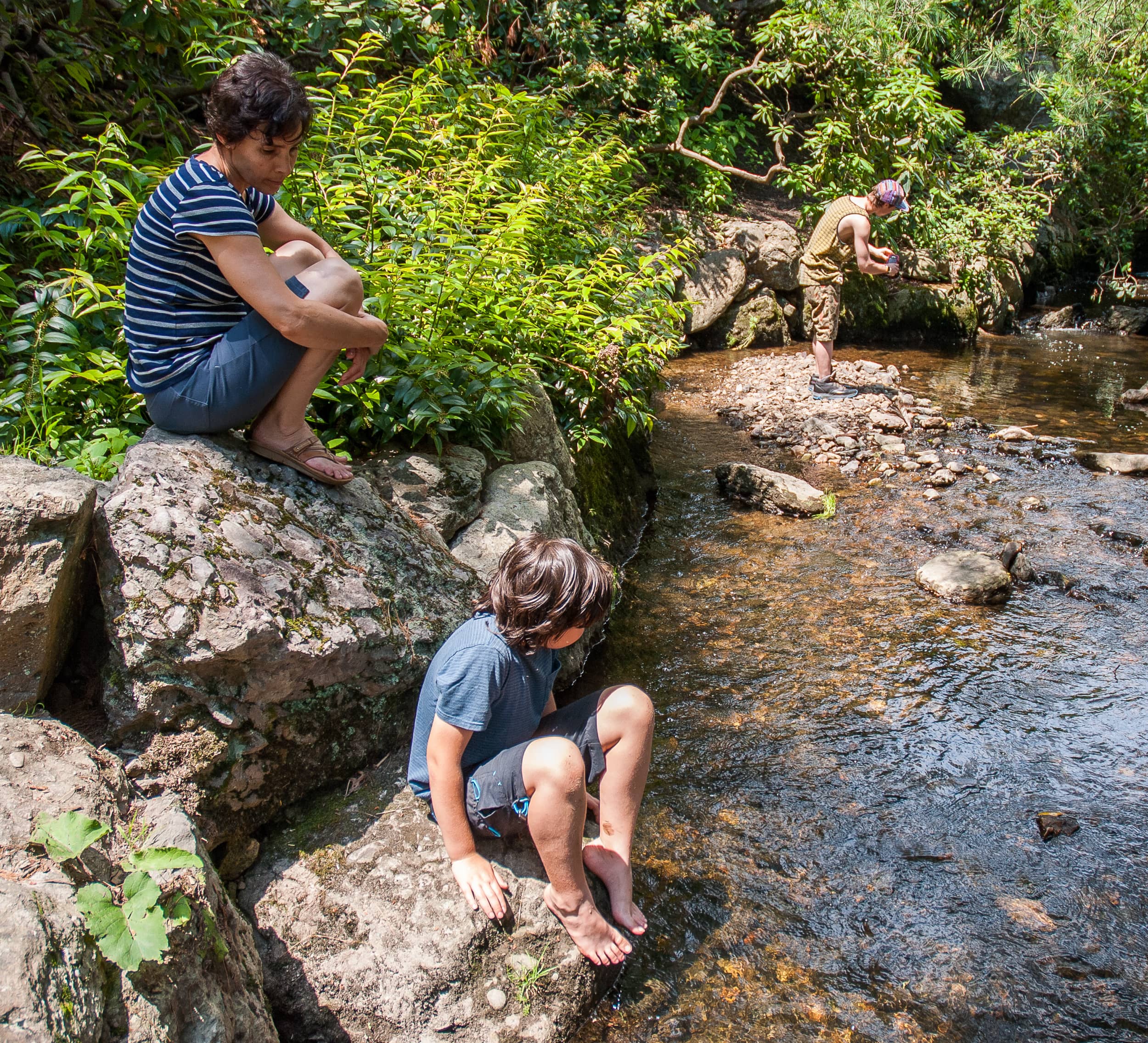 Bussey Brook, Arnold Arboretum
Visitors enjoying Bussey Brook in the Arnold Arboretum
Frozen Crabapples
Frozen crabapples after snowfall in mid-March. A granular snow covers the ground and part of the crabapple surfaces.
Boston Skyline, May
Photographed from the top of Peters Hill located in the Arnold Arboretum of Harvard University, Boston, MA. The city of Boston skyline is in the far distance.
Pollinating Cones
Leaves in Ice
Leaves frozen into the ice atop a vernal pool. This abstract image was made with two or more images layered together and then color was added in some areas.
Abandoned Gym Shoe
An old style gym shoe in process of decay found in the abandoned stone quarry in the Arnold Arboretum
Arboretum Inspiration
Published on Aug 21, 2015
This video is about "Arboretum Inspiration: Image and Word" a photography and poetry collaboration by poet Holly Guran and photographer Philip L. McAlary. This exhibition was on display June 6 through September 13, 2015 at the Hunnewell Building of the Arnold Arboretum of Harvard University located in Jamaica Plain, MA.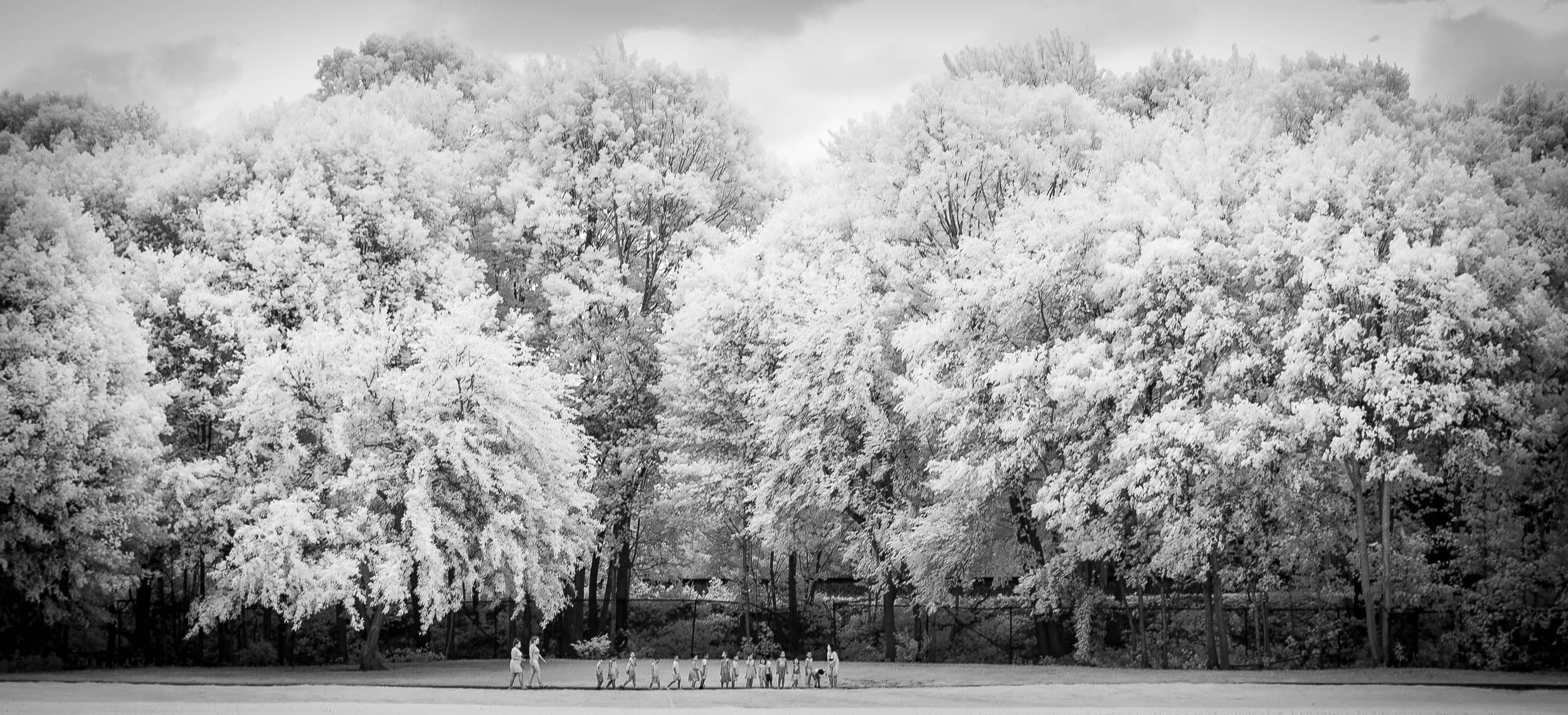 A Walk in the Park
Children walking along with their teachers in Fallon Field, Roslindale, MA.
Clouds, Leaves, Contrails
Peering up to the blue sky through the young leaves of a tree in the Arnold Arboretum of Harvard University, Boston, MA.
Dawn Redwoods in Wetland
These redwood trees are located in a boggy area of the Arnold Arboretum of Harvard University. I walk by these wonderful trees almost every day and have taken many photographs of this wetland and the changes that occur throughout the year. The scene was photographed with an infrared adapted Nikon digital camera; a sepia tone was applied to the image in post processing.
Pea Vines in the Garden
My wife Holly is gardening in the background. Both of us enjoy gardening and raising a few vegetables.
Deer in the Garden
Deer statuary almost hidden by this garden. Located in the upper right is another deer looking out.
Burdock Leaf
An infrared photograph of a dehydrated burdock leaf lying on the ground in the woods.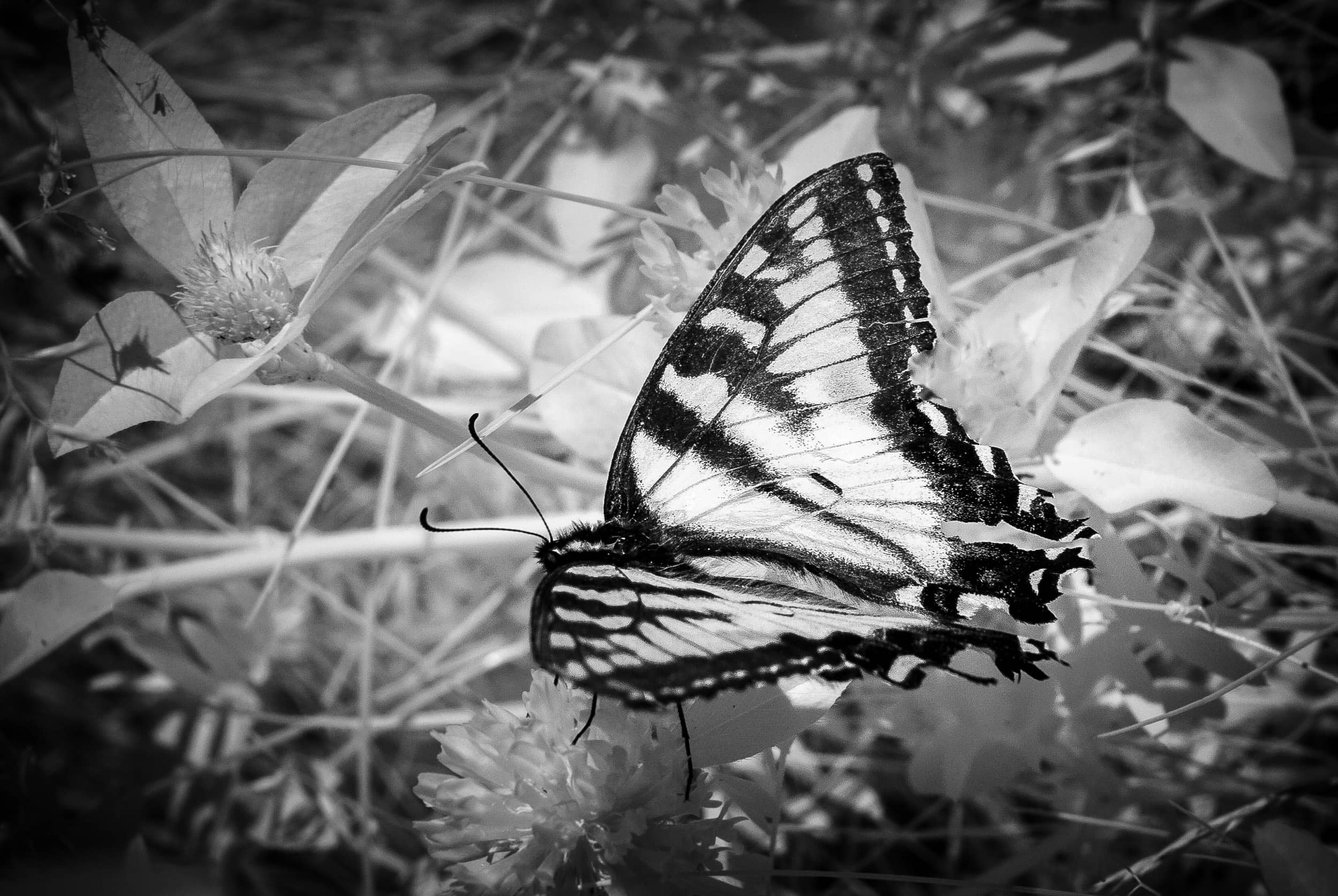 Swallowtail Butterfly Alighting on Clover
A closeup photograph of a swallowtail butterfly feeding in a field of clover and grasses.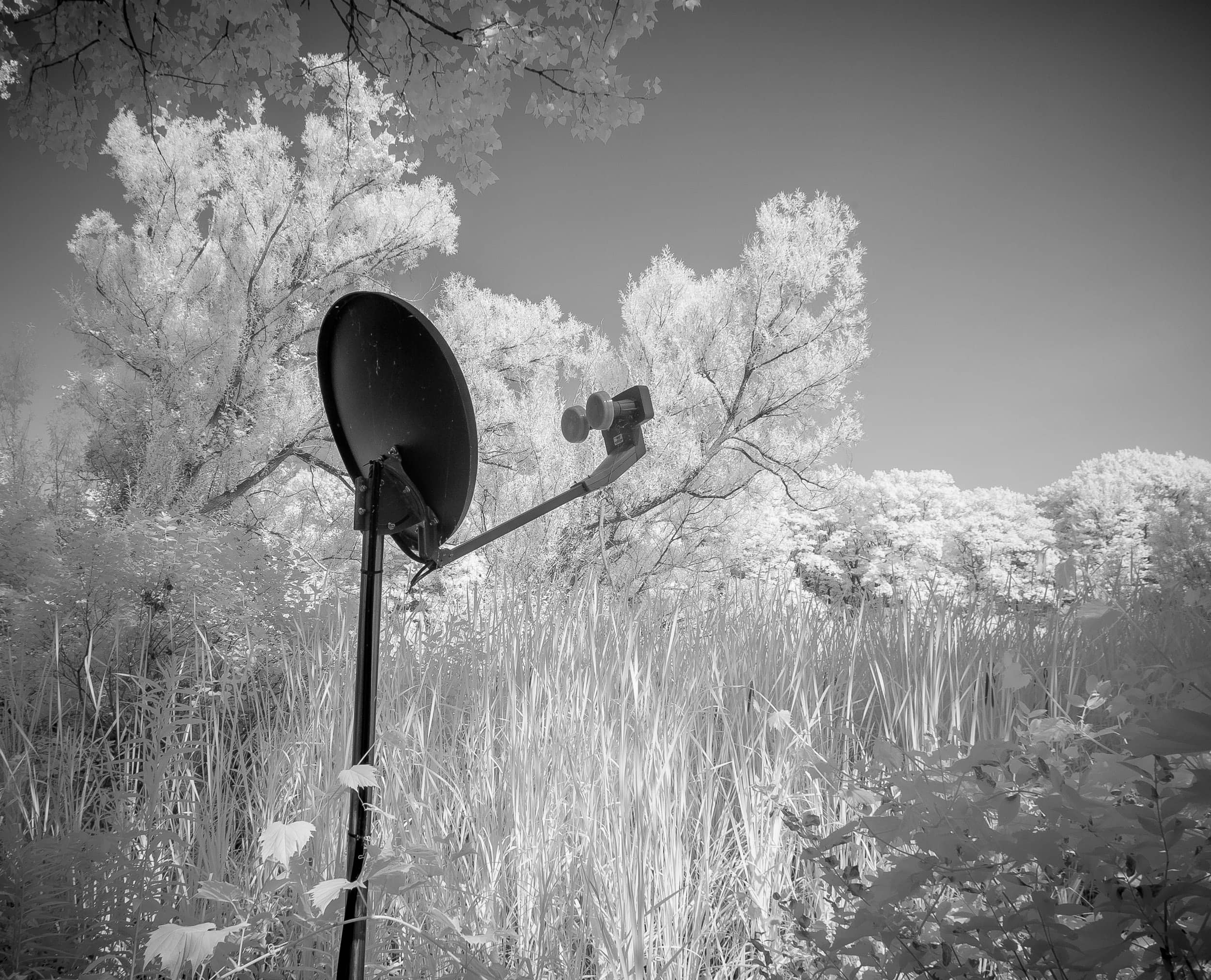 Wetlands Hunter
I liked the juxtaposition of the wetlands behind the satellite TV antenna which is hunting for tv stations. Photographed while visiting Lake Ontario in Mexico State Park, Mexico, New York.
White Door on Vermont Barn
Taken with a Nikon D80 near Middlebury, Vermont.
Vine and Garage
A climbing hydrangea vine overtaking an old fabricated steel garage on Symmes Street in Roslindale, a neighborhood in Boston, MA. In autumn 2017 the beautiful vine was cut down so the garage could be painted. Nothing stays the same.
Porch Furniture, Winter Snow
I like the lines, shapes and patterns that the snow helps one to see in this infrared closeup photograph of porch furniture covered in a thin layer of snow.
Homes amid Snowstorm
Homes in Roslindale, MA during the start of a snowstorm.
Old House with Ferns
An infrared photograph, taken in spring, of a dilapidated house in Roslindale, MA. Ferns cover a greater part of the front lawn.
Houses and Ornamental Grass
In this mid-spring infrared photograph, Miscanthus Sinensis grass mimics the peaked roofs of the homes in the background.
Winter View from the Kitchen Window
Winter in New England; a few dishwashing tools in a mug in the foreground.
Dog Walking in the Arnold Arboretum
Four dogs happy to be out with their pack leader, in the beautiful Arnold Arboretum of Harvard University.
Joy of Two Dogs!
Ginger the chihuahua/terrier mix resting on a summer day with an acquaintance, an Australian cattle dog.
Ginger, at Rest
I am fascinated by my dog! What makes Ginger tick? When she dreams what does she see?
Roofers at Work
Workers installing shingles on a home in Roslindale, Massachusetts.
Pink Suit
This photograph of a clothing store window was taken in Lowell, Massachusetts in the early 2000's.
Symmes Street during Blizzard
Taken during a blizzard in Boston, Massachusetts. Many of the snow-covered cars on the street are beginning to disappear.
Elderly Man at Work
My brother in law, in his early 80's, sorting out tools in his garage.
Nash Farm, Clarksville, Michigan
My cousins farm. The farm has been in the family for over 100 years. Some of my most favorite times as a child were visiting relatives and playing at the farm.
Green Fiberglass Window
The missing glass has been replaced with a fiberglass panel. Cheesebrough Wooden Rake Factory, Freeport, Michigan.
Lucky
Horseshoe nailed to wood siding of the Cheesebrough Wooden Rake Factory located in Freeport, Michigan. The factory has been operating in Freeport since 1876. In March 2013 it was destroyed by fire.
Barn with Christmas Wreath
An old barn located near Lowell, Michigan. An antique hay rake is in front of the barn.
Satellite Annex Garage
An old neglected garage that is located in Ionia, Michigan.
Abandoned Water Structure
This old structure is located next to the Otter Creek River in Middlebury, Vermont.
Abandoned Mill on Otter Creek River
An old abandoned stone mill on the Otter Creek River viewed from the bridge on Main Street in Middlebury, Vermont.
White Warehouse Green Window
An old warehouse in Marion, New York.
Barn and Tree
Black and White study of a barn in Marion, New York.
Barn with Hex Sign
This barn is located in Marion, NY.
Entropic Barn
An old barn collapsed and is slowly being overgrown by vines. An antique glass paneled door has been propped in front of the structure. Located in Marion, N.Y.
Texaco Fire Chief Gas Pump
Antique gas pump standing in the front yard of an old brick dwelling located in Marion, N.Y.
Red Store Front
Full of character, this old cobblestone building is located in Palmyra, New York.
Blue Store Front
Another old brick and wood building with plenty of character, located in Palmyra, New York.
Pretty Nail, Pretty Building
Pink and Orange "Pretty Nail" located in Oswego, New York.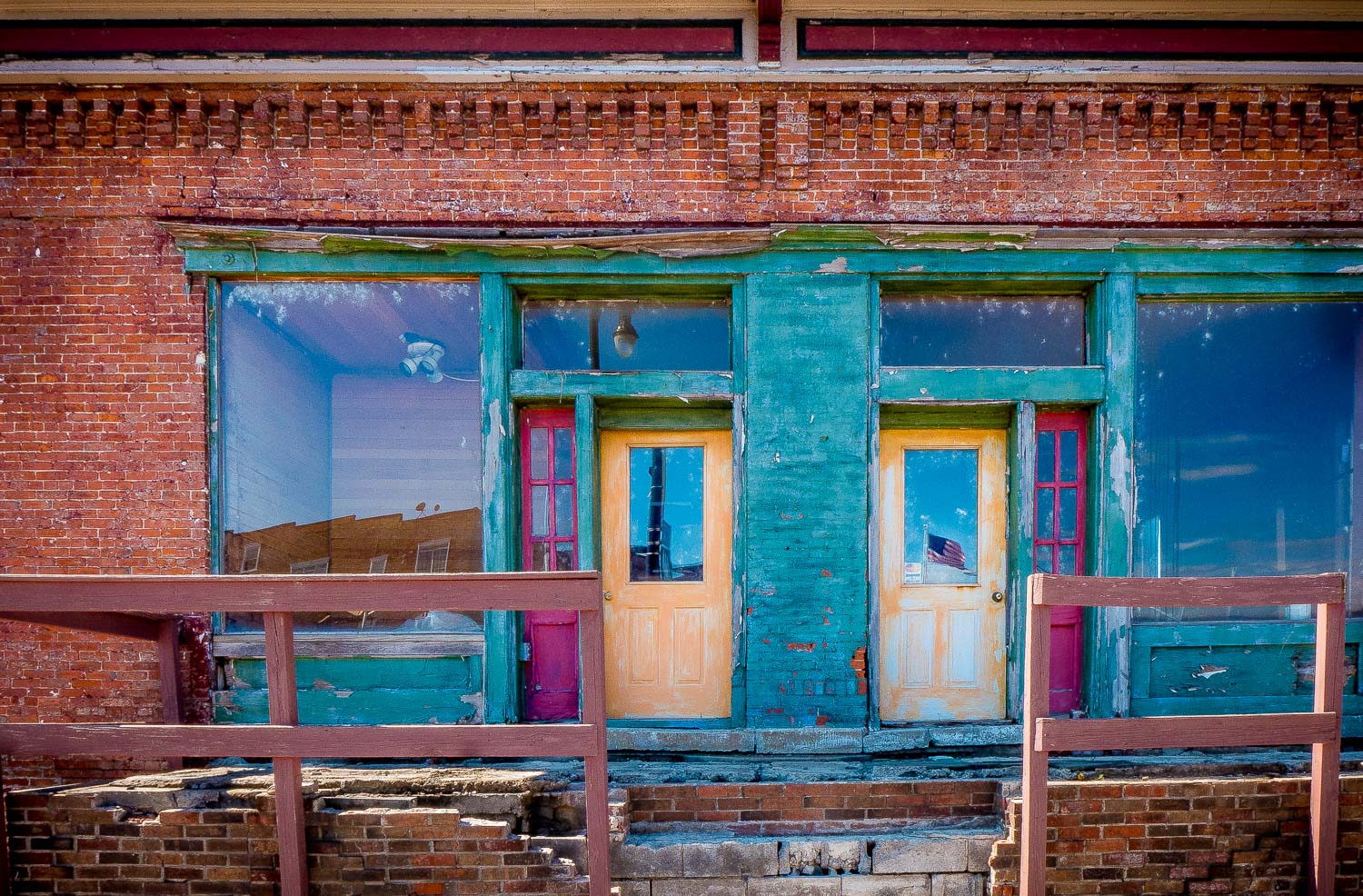 Orang Sherbert Doors
Orange Sherbert Doors, Oswego, New York, 2014. The American flag is reflected in the window of one of the doors.
Arboretum Inspiration
Arboretum Inspiration: Image and Word is a collaboration with my wife, Holly Guran, who is a poet. Her poems and my photographs were inspired by our frequent walks in the Arnold Arboretum of Harvard University which is located in Roslindale and Jamaica Plain, Massachusetts. The Arnold Arboretum is a place of solace and beauty; we feel very grateful that we live so near by. Click on any of the images to view a slideshow.
Scroll down to see a different gallery and slideshow.
© Philip L. McAlary 2016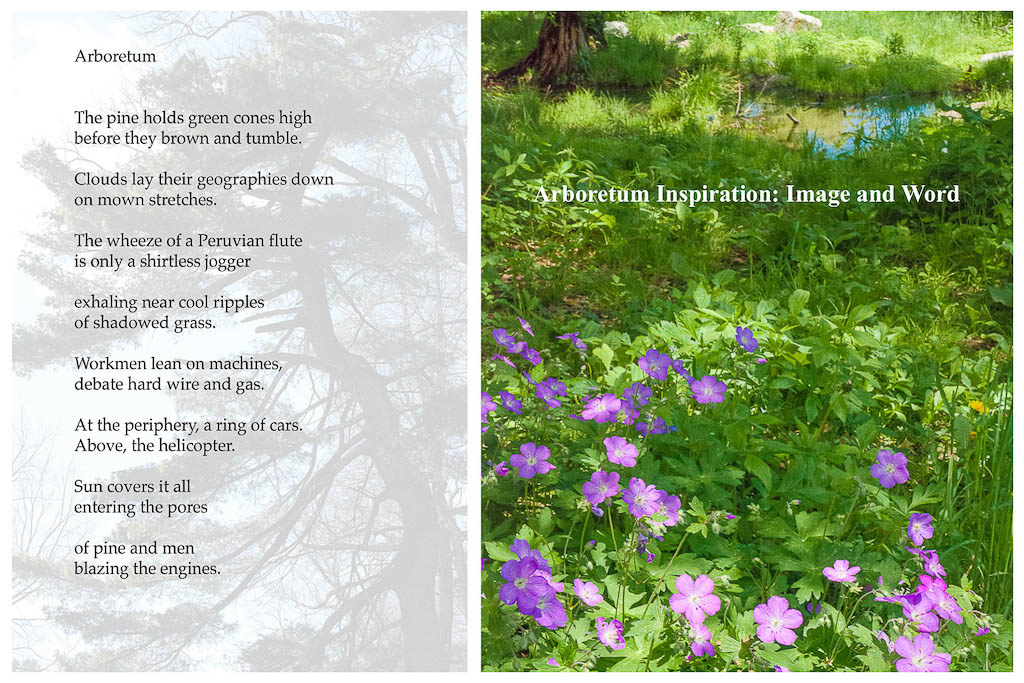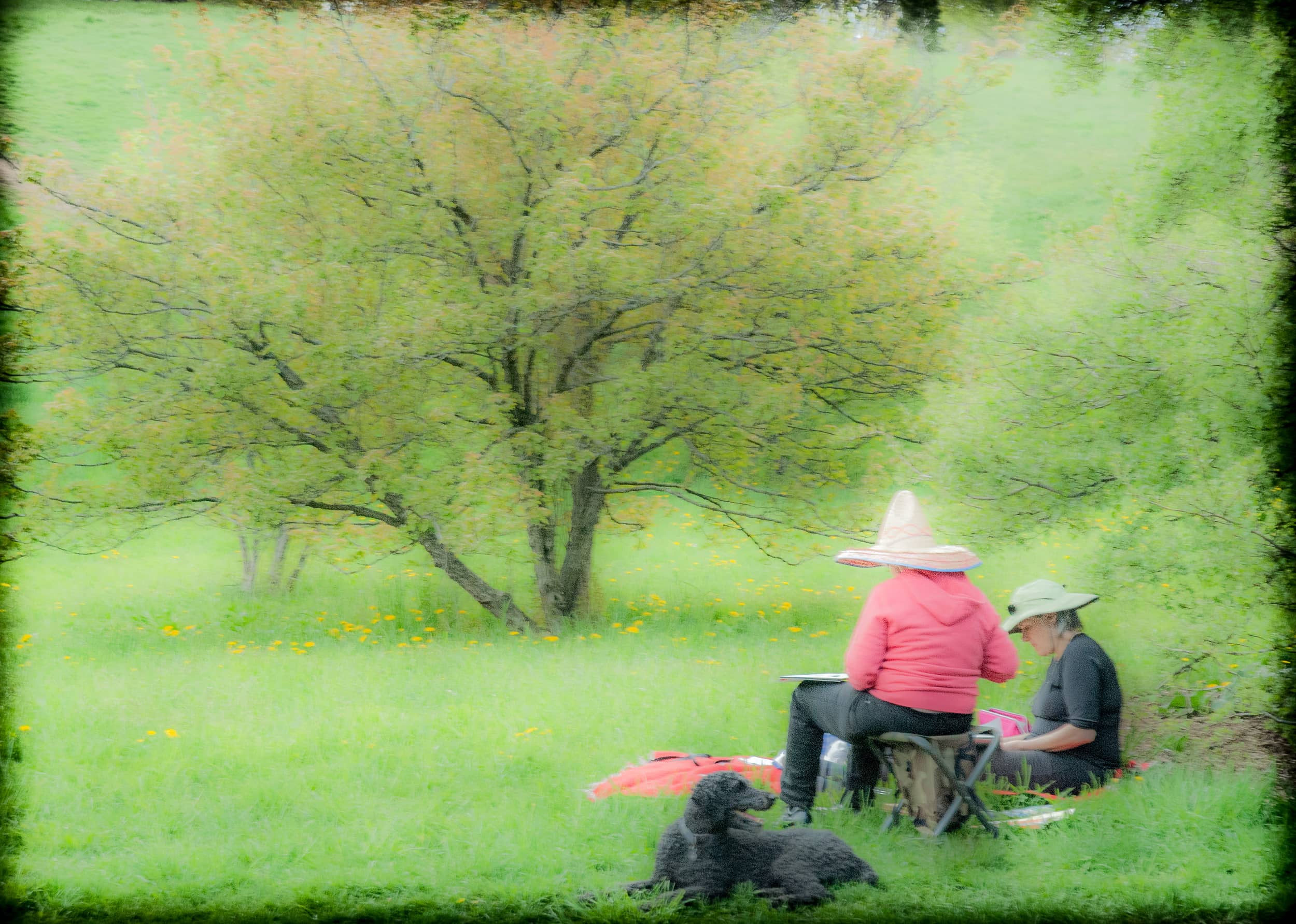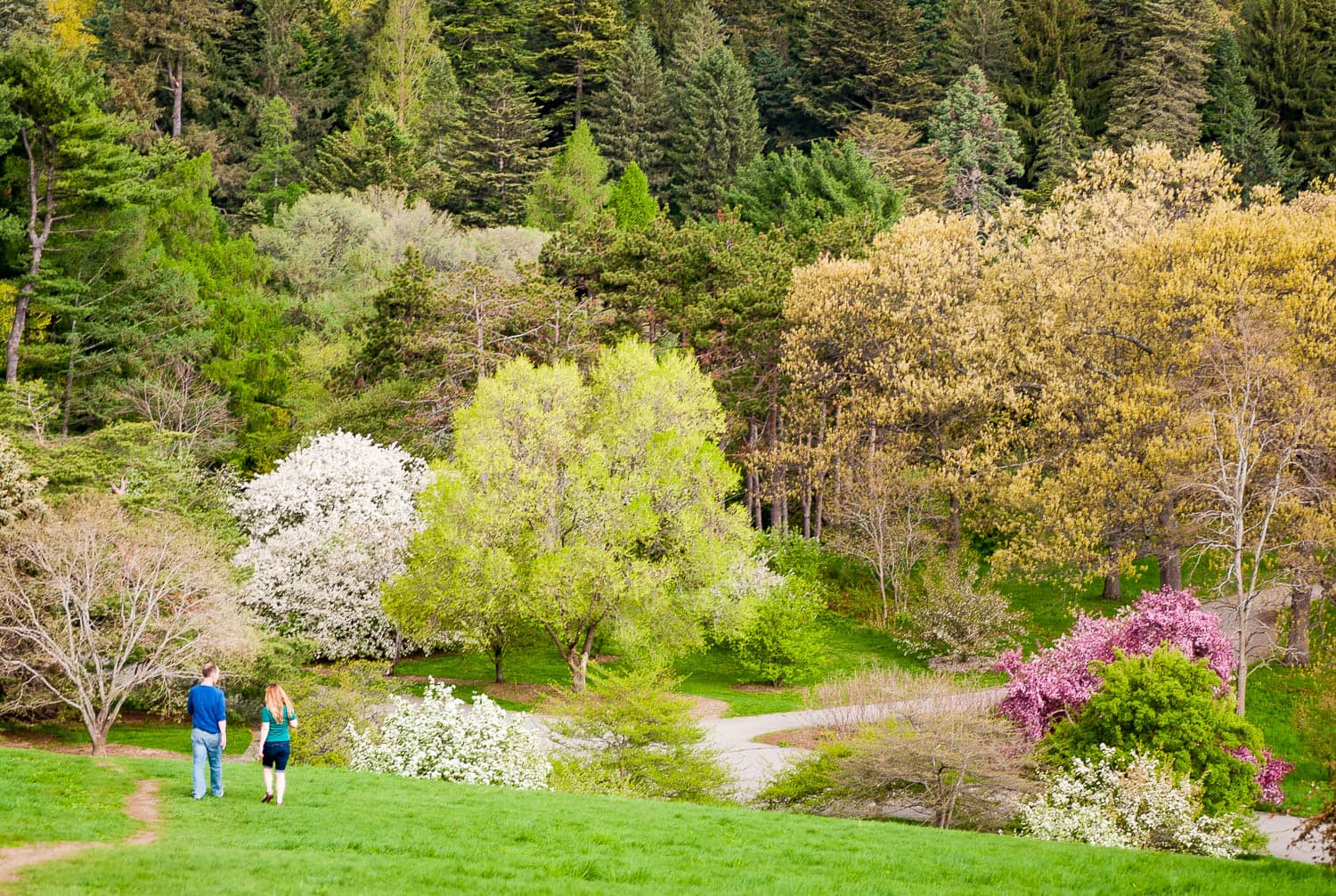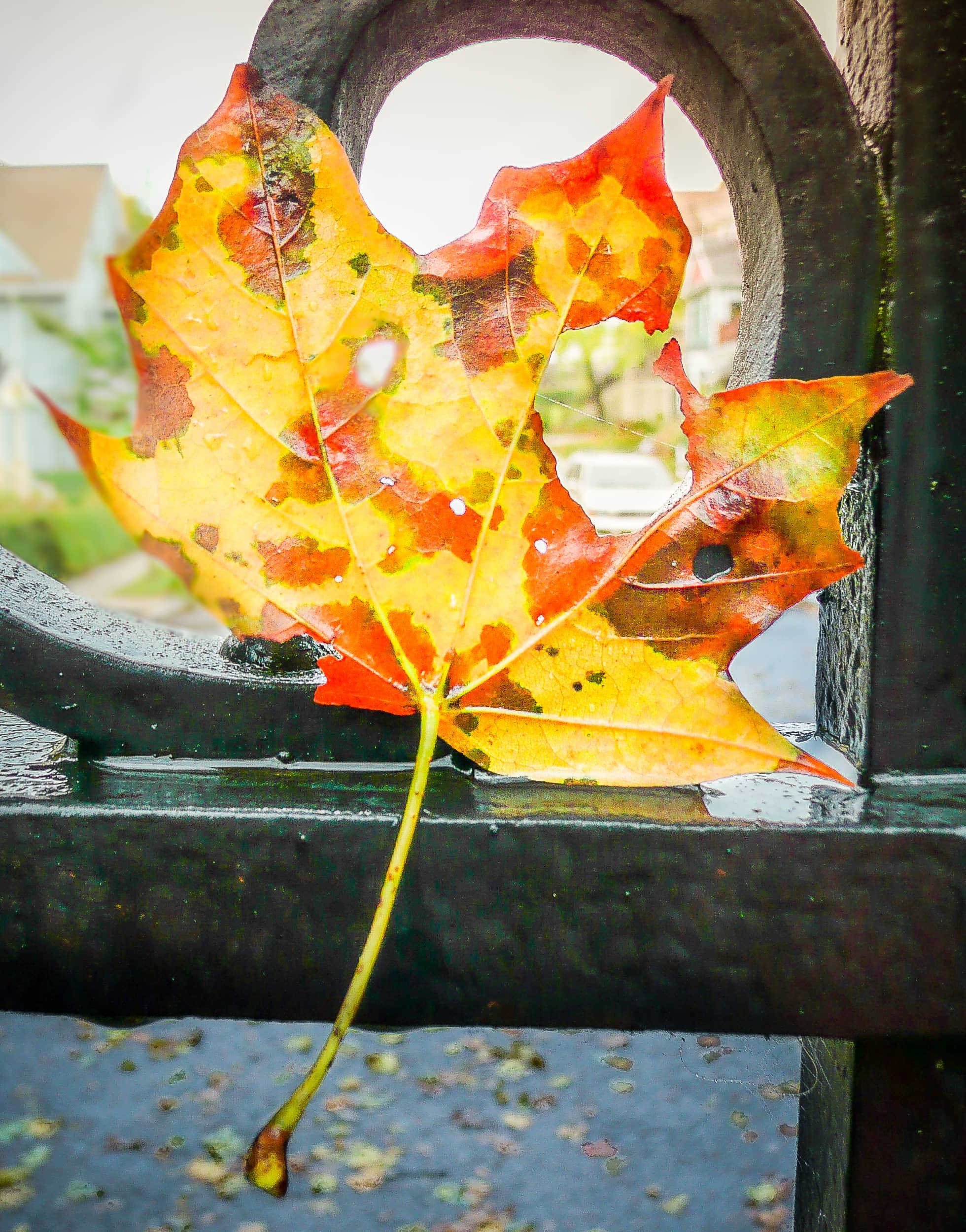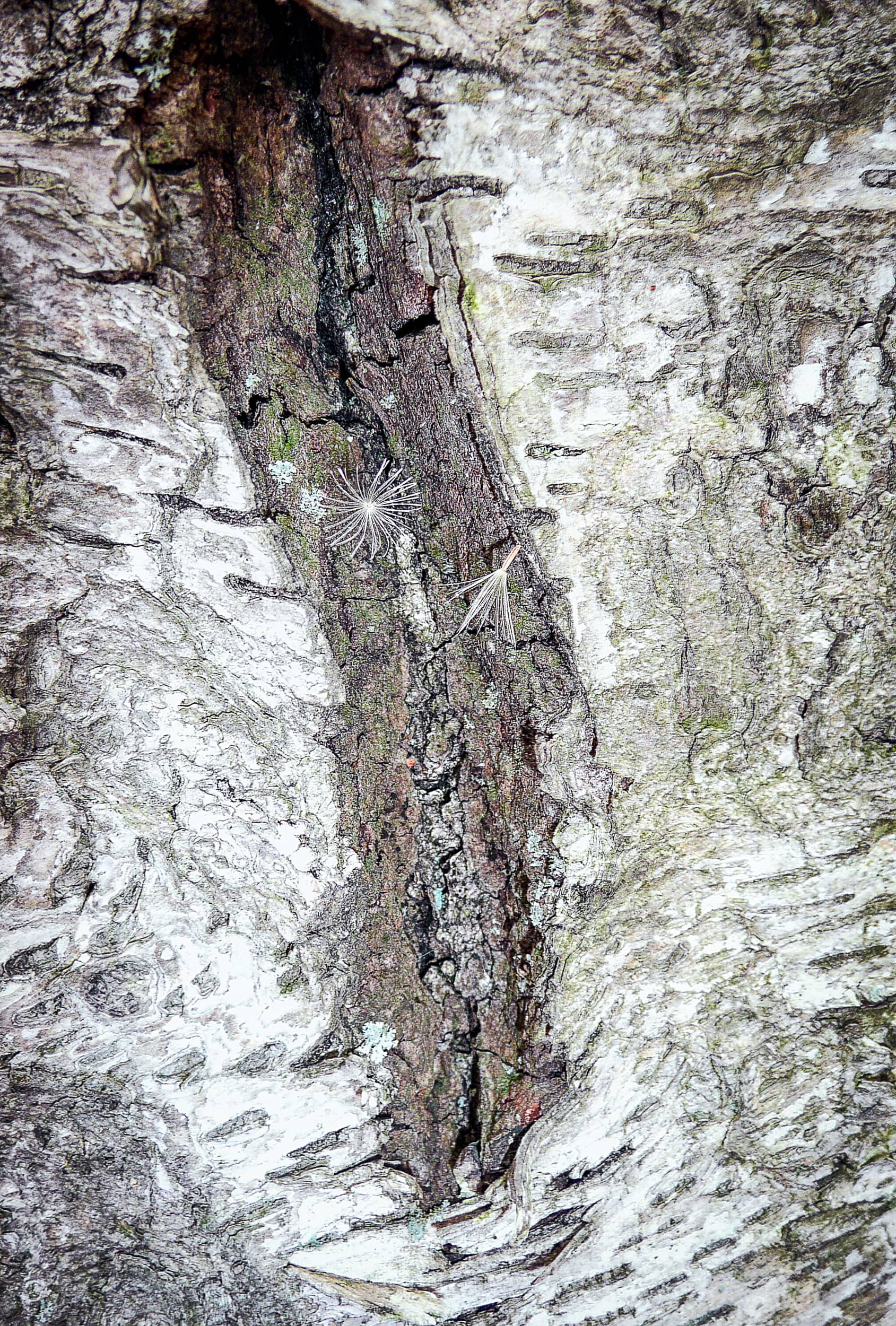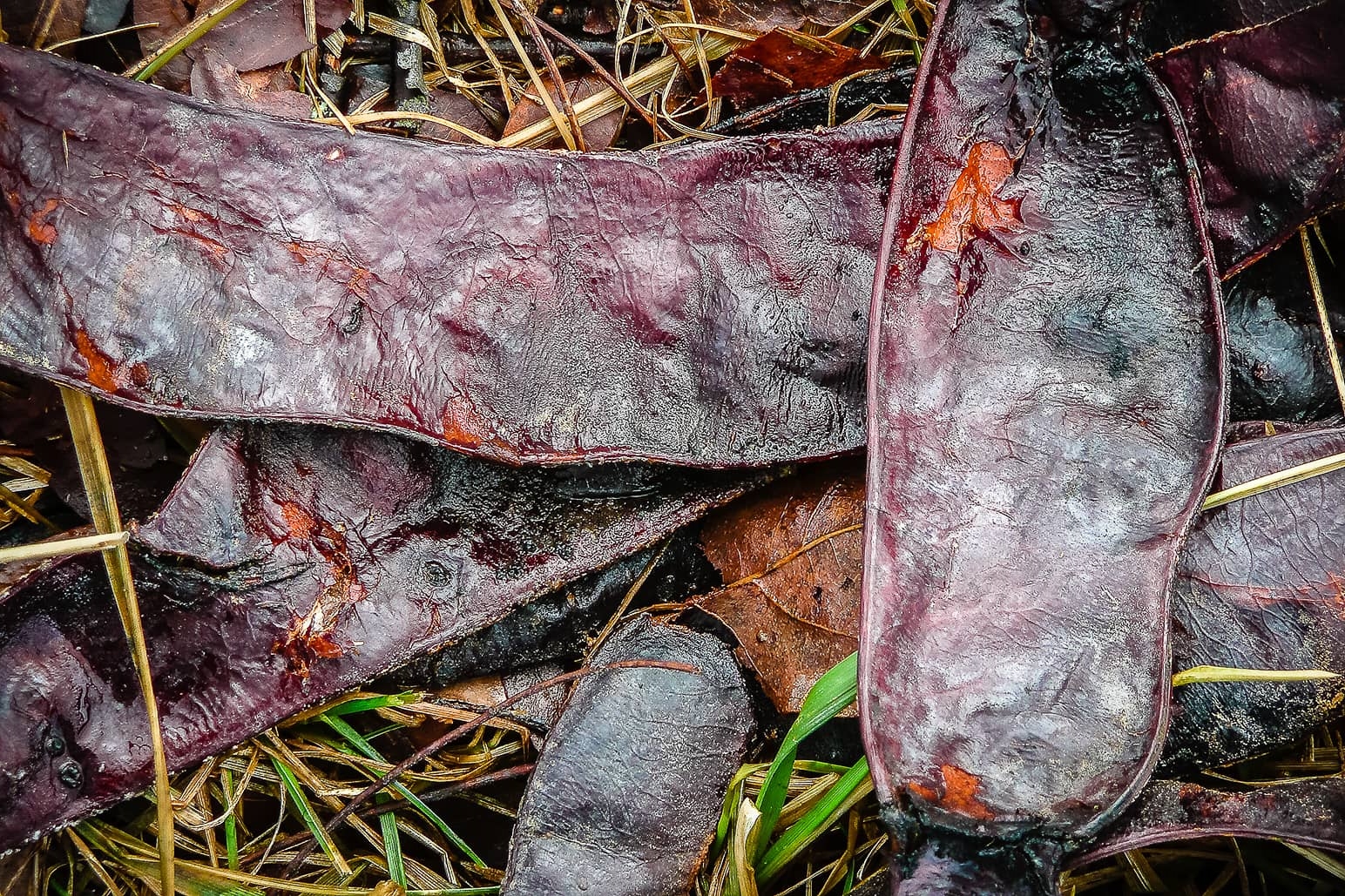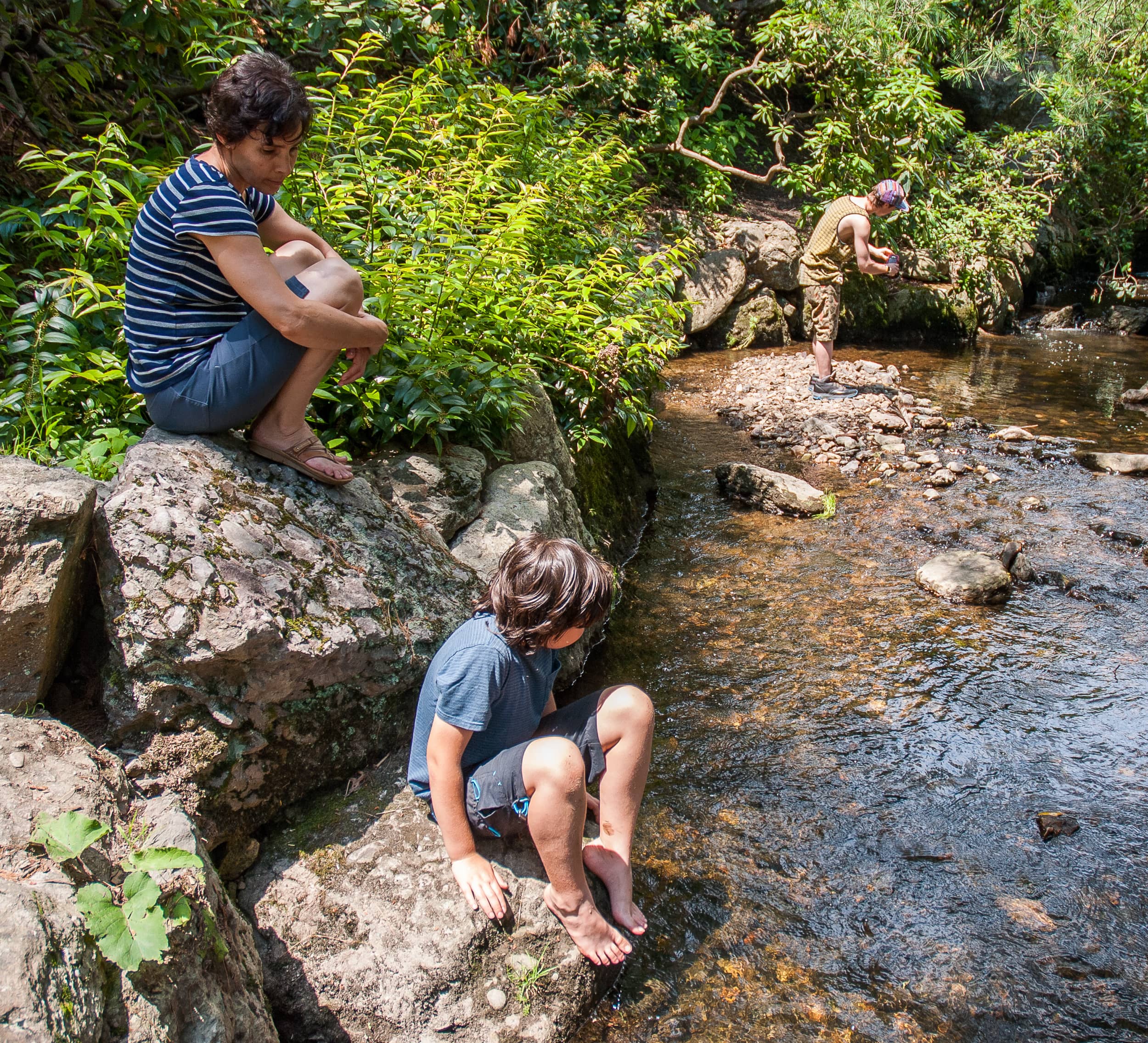 Infrared Images
I made these photographs with a Nikon D80 digital SLR that was converted to infrared.
© Philip L. McAlary 2016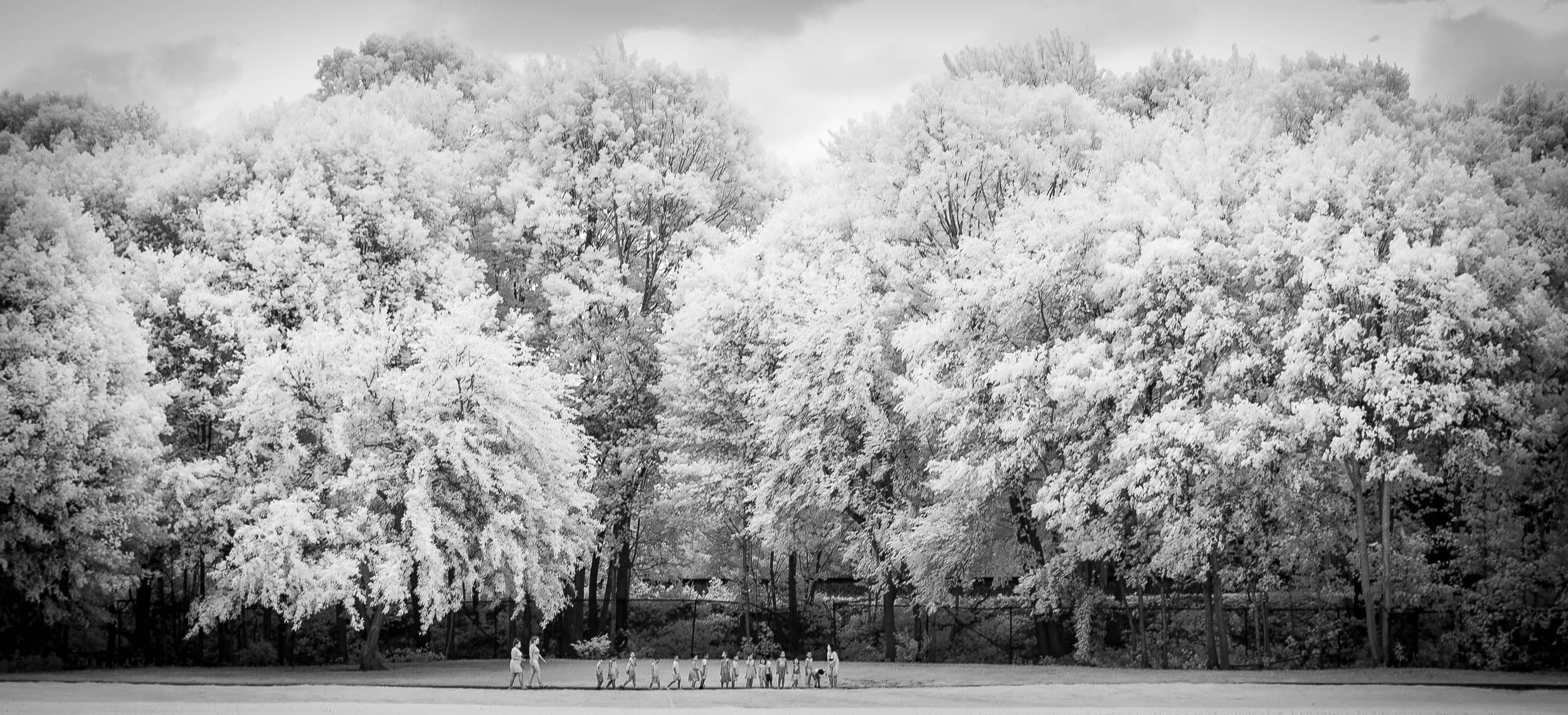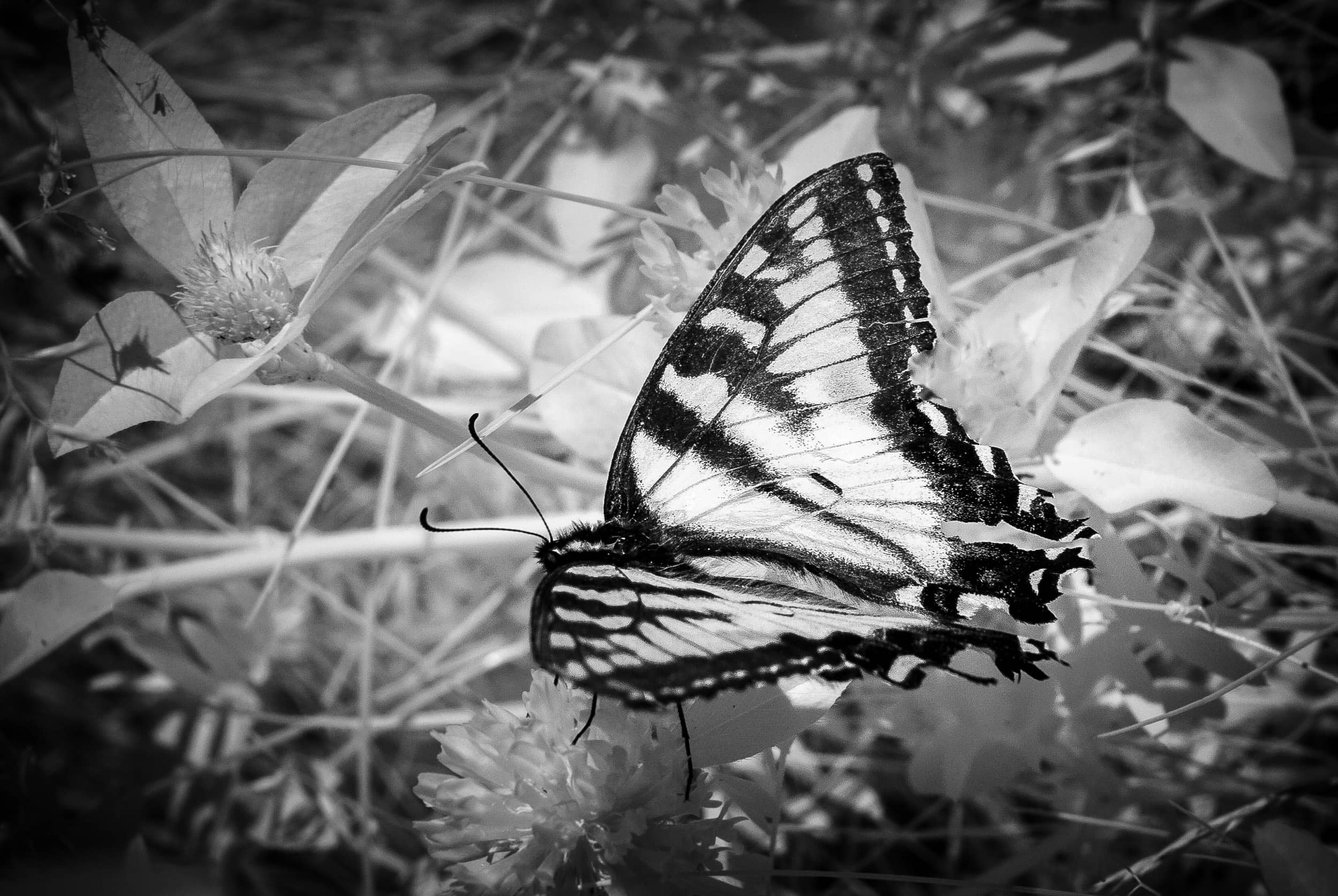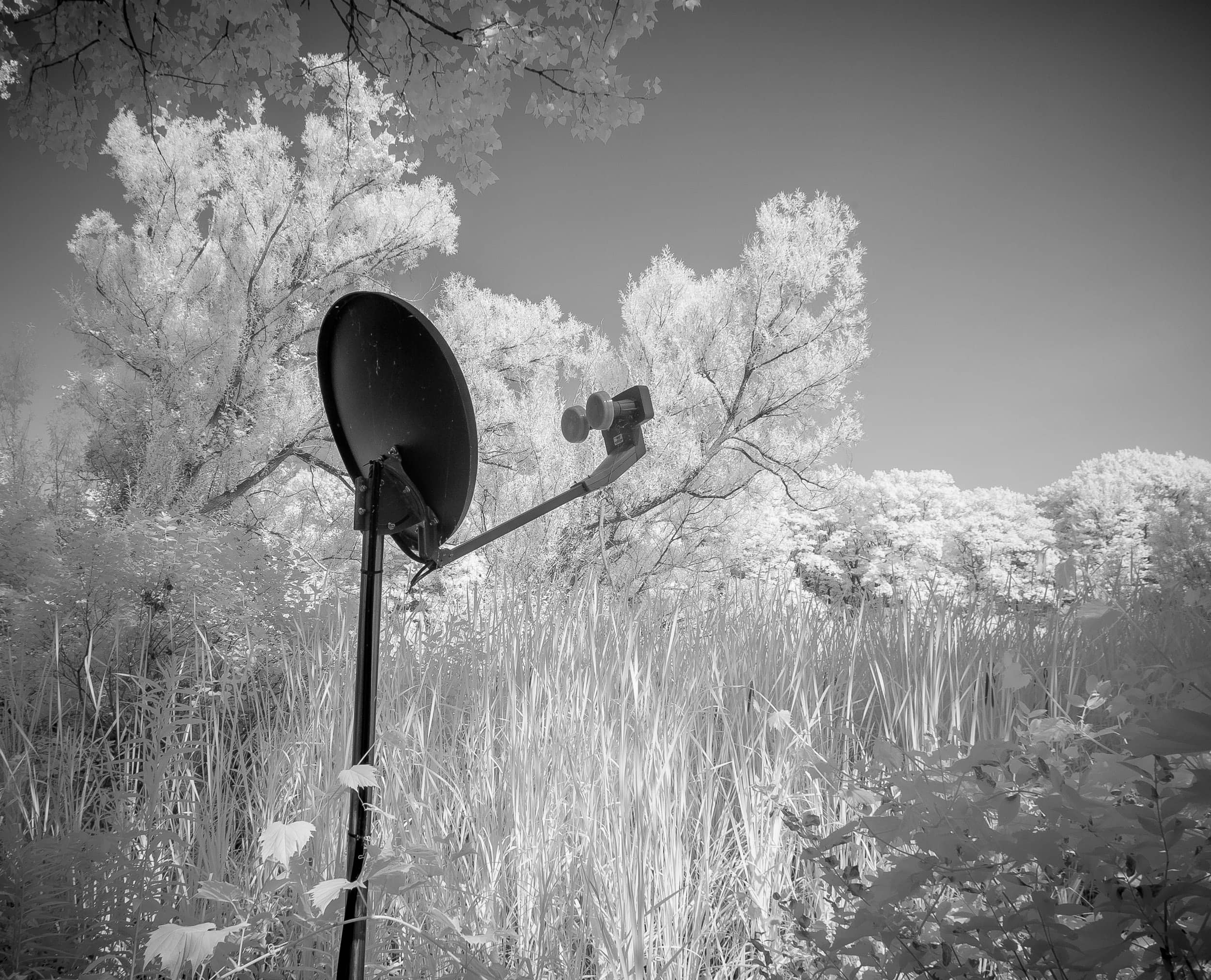 Places
Photographs of buildings and structures in various parts of the United States. These images occasionally include people and nature in relation to these structures. Click on any image to view larger images in a slideshow or scroll down to see more images.
© Philip L. McAlary 2016